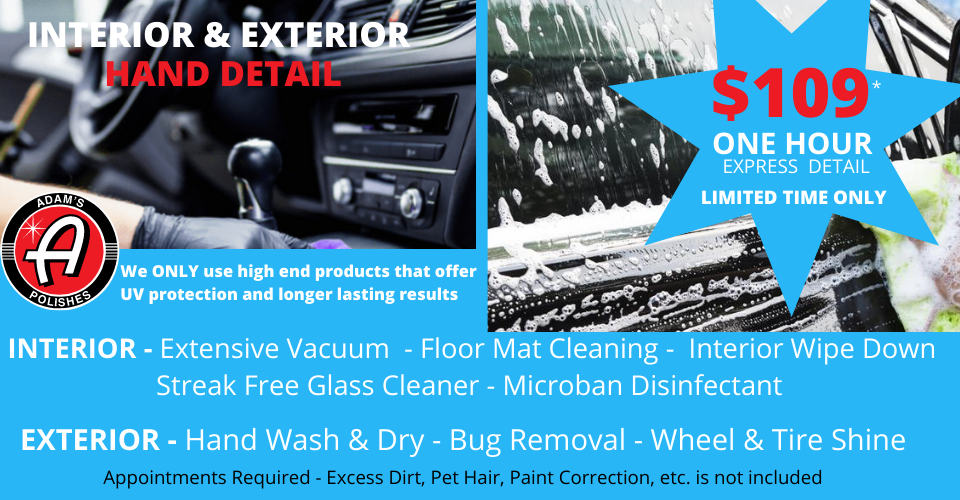 INTERIOR ONLY 
Carpet vacuum and shampoo, deep cleaning, enzyme treatment through the vent system,  interior dressing and conditioner with UV protection, streak-free glass cleaning, complete wipe-down of the dash, center console, and door panels
Car: $140
SUV/Truck: $200
Large SUV/Truck: $250
-
COMPLETE DETAIL PACKAGES
-
SILVER
Exterior hand wash/dry, clean windows in/out, wheel/tire clean and shine. Interior vacuum,clean & condition.
Car-$200  SUV/Truck-$250  Large SUV-$300
GOLD 
Silver package + Exterior clay bar & wax application
Car-$250 SUV/Truck-$300 Large SUV-$350
GOLD PLUS
Car-$275 SUV/Truck- $340
Large SUV - $375
PLATINUM
Gold PLUS package + Headlight restoration, engine bay cleaning
 (
"Brand New" look!
)
Car-$375 SUV/Truck-$425 Large SUV-$500
-
Engine Bay Cleaning (Brand New Look) - $75
Pet Hair Removal - $50 and up
Excessive Dirt - $50 and up
Extensive Carpet/Seat Scrubbing - $50
Headlight Restoration - $75
Leather Seat Clean & Condition - $50
Wheel Renew & Tire Shine (non painted) - $50
Buff/Paint Correction - $90/Hour ($54/hr labor + $36/hr supplies)
Fabric protection
- Applied to All fabric including seats, carpets, floor mats, and headliner $40
All A La Cart prices are subject to increase depending on the severity of service needed.
-
**Paint correction and Ceramic Coatings can be added to all packages**
ProCo backs all of our detailing services with 100% Satisfaction Guarantee!!